---
This page is outdated, and is provided for historical interest only.
I am now working on SFeditor, which is a similar concept to the original SFMapEdit but much more sophisticated.
---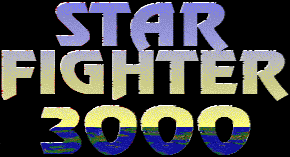 Map editor
Background
The map editor is being developed (along with a suite of other Star Fighter 3000 utilities) in parallel with the process of decompiling the game itself. The map editor was started as a direct consequence of me working out the file formats for the game. Currently, only the game textures and the map appearance may be altered, but editing of all the game elements will be possible in the release version.
The user interface
The main window is a view of the map of a game level. This can be edited using the various tools and processes which are available from the tool window. There is also a textures window which is the equivalent of the palette window in Paint. It generally displays the all the available textures that can be used on the map, but also becomes an 'area' painting palette or 'snake' path selector depending on the editing mode.
Features
To be honest, the features of this program are so myriad that I'm not sure whether I can be bothered to document them. (Sigh). Here goes:
3 editing modes; single textures, substance types, texture 'snake' (for roads, pipelines etc)
Extraordinary configurability. All the data that will ever need amending is in config files.
2 drawing modes; absolute texture editing or intelligent real-time smoothing of joins.
Ability to cut, copy and paste any area of the map
Ability to save only altered areas of map as patch file
3 editing tools; stamp, paintbrush, flood fill.
4 shape plotting routines; circle, rectangle, triangle, line.
'Magic' wand to alter a given texture to fit smoothly with it's neighbours
Ability to draw properly on the map rather than the 'dotty' effect given by Paint
Nice sprites for the Fednet filetypes :-)
There is a screen grab of SFMapEdit running available here.
Update: Please will people interested in this project contact me, so that I can gauge the amount of interest in having a SF3000 map editor. I have realised that a fully-featured mission editor would, because of the inherent complexity of the game, need to be a very ambitious RISC OS application. I don't want to start such a task lightly.
Author
Chris Bazley
Projected release date
Unknown
Screenshots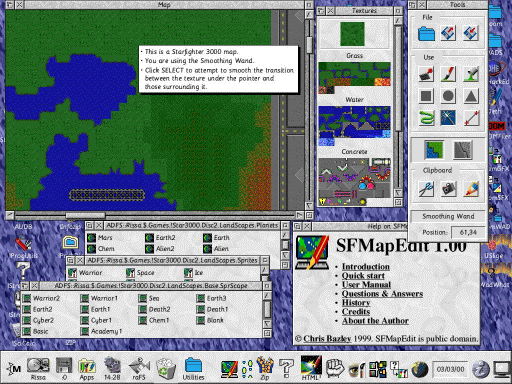 Download
Although SFMapEdit 'works', I want to perfect it before it is available for download.