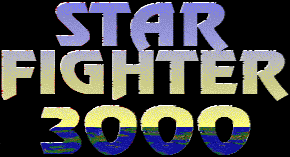 About the game
Introduction
From the authors of Chocks Away and Stunt Racer 2000 ...
The year is 3037, your application has been accepted and you are on live T.V. being watched by over a billion people ...
Compete through 108 exciting missions. Battle your way through enemy defences. Control enemy airspace and annihilate all terrestrial installations. Command your formations through huge intergalactic battles over many different planets.
Earn enough to buy the ultimate killing machine, win cash prizes, even gamble your way to success.
Features a smooth blend of fast texture mapping and realistic 3D images, lots of in-game music and sound FX and a great mix of strategy and arcade action.
The fight is on, are you up to it ?
Gameplay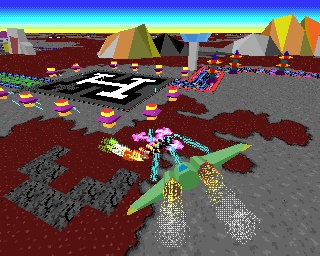 Star Fighter 3000 is a futuristic combat-dedicated flight action shooter rather than a realistic flight simulator, which places it in broadly the same genre as games such as Apocalypse and Terminal Velocity. However, the gameplay sometimes involves elements of strategy and planning. For example, the player must often competently control formations of friendly fighters, protect certain ships, or prioritise destruction of others.
The large number of missions gives Star Fighter 3000 unprecedented longevity for a RISC OS game. Although most take place either in deep space or on one of about a dozen recognisable maps, the scenery is pleasingly varied with landscapes including grasslands, volcanic worlds, islands in the ocean, gothic planets and mountainous ice worlds.
Graphics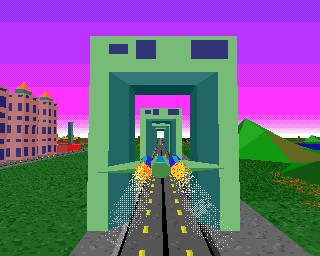 Graphically, Star Fighter 3000 is now very dated. The ground is drawn as a single huge texture map of 4096 by 4096 texels, which is infinitely tesselated to create a game world with no obvious limits. Objects such as spacecraft and buildings are rendered as flat shaded 3D polygonal models. Hills (which cover parts of the ground texture map) are also polygonal. All graphics are rendered at a colour depth of 8 bits per pixel and a fixed resolution of 320 by 256, which is more suited to TV or early analogue RGB monitor than a modern VGA monitor.
The accuracy of texture mapping can be adjusted, as can the distance at which polygonal objects are no longer plotted. Texture mapping at the lowest detail levels (suitable for an ARM 2 processor) is very blocky indeed.
Perhaps the most impressive feature is the sky, which is rendered with different gradations of colour depending on the atmosphere. As you fly higher, the colour thins and the stars gradually come out.
Humour
The game is full of self-deprecating humour and doesn't take itself too seriously. In fact, one of your enemies is a tribal warlord "hell-bent on sculpture and universal destruction" who "likes to dress up in a squirrel costume and play conkers in his spare time"! Here are excerpts from some mission briefings that made me laugh:
"THE CUNNING WEASEL HAS JUST BOUGHT 2 I.C.T. REMOTE MORPHING SHIELD GENERATORS... HE IS NOW DEMANDING A STEADY SUPPLY OF CONKERS FROM FEDNET OR ELSE!"
"FEDNET PEACE TALKS WITH THE DARK LORD 'HE WHO IS MASTER OF ALL THAT IS EVIL' HAVE GONE DRASTICALLY WRONG WHEN A FEDNET DIRECTOR SUGGESTED THAT HIS BLACK DEATH CLOAK WOULD LOOK RATHER FETCHING IN PINK."
"COMPLAINTS ARE COMING IN ABOUT THE I.C.T. CHEMICAL PLANT... APPARENTLY THE VERY RARE ROCK WEASEL IS NEAR THE POINT OF EXTINCTION... NOT THAT FEDNET CARE ABOUT THE ROCK WEASEL, HOWEVER IT'S A GOOD EXCUSE TO BLOW UP MOST OF THE CHEMICAL PLANT."
"USING A TEST S-T-C TELEPORTER, WE HAVE MANAGED TO PUT ALLIED PILOTS INTO TWO OF THE ENEMY FIGHTERS... THE ENEMY PILOTS THAT WERE BEAMED OUT GOT ACCIDENTALLY SCRAMBLED DURING TRANSMISSION - IF YOU SEE BITS OF THEM - DO NOT BE ALARMED."
History
The game was launched by Fednet Software in late 1994 at the Acorn World show, after a feverish period of development to meet this deadline. It was originally supplied on two 3.5 inch floppy discs suitable for the Acorn Archimedes and Risc PC.
Andrew Hutchings and Tim Parry wrote the game entirely in ARM assembly language. Andrew had previously created hugely enjoyable flight simulator Chocks Away and the pair had already collaborated on Stunt Racer 2000 (1993). Both games were originally published by the Fourth Dimension and then later by the APDL on their games compilation CD-ROMs.
As with many old games, incompatibilities were soon discovered between Star Fighter 3000 and the StrongARM processor upgrade for Risc PC machines (1996) because of its extensive use of self-modifying code. Other problems came to light with the introduction of RISC OS 4 (1999), which improved protection against illegal memory accesses. In August 2000, Christopher Bazley released a program named SFpatch which patched the original game code to resolve these incompatibilities. Soon afterwards iSV Products published a new version of the game incorporating these changes (with other minor improvements) on a compilation CD-ROM entitled 'Other Worlds'.
Gradual development continued with occasional free upgrade patches, the last of these being released in October 2002. During this period the most notable improvements were to the game's sound. 16 bit linear sound was now supported in addition to Archimedes-compatible 8 bit µ-law, and could be mixed with other sources (such as MP3 music) courtesy of the SharedSound module. The pitch bend effect used to give an impression of speed to thruster and wind noises (which had been disabled on Risc PC machines) was finally restored to its former glory. Stereo effects and an increase in polyphony also improved the aural experience.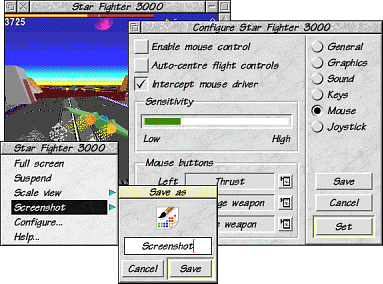 In November 2003 APDL (who had taken over from iSV Products as publishers of the CD-ROM) released a 32-bit compatible version of the game that ran natively on the (then-new) Iyonix PC. This version could also run in a window on the RISC OS desktop and included an unprecedented number of bug fixes - many for problems that dated back to the very first versions of the game. For more information see the feature on Star Fighter 3000 CD-ROM edition.
In September 2005 a free upgrade from any previous version of the game (including floppy disc versions) was released online.
In November 2014, twenty years after the game's original launch, it was finally made free to download.
A comprehensive version history is also available.